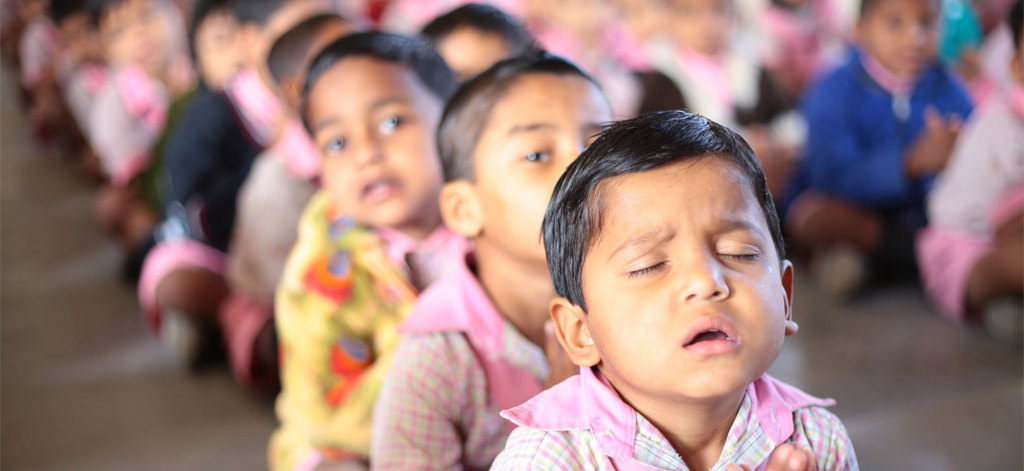 We at Vishwa insists on physical and emotional grooming of the child on the basis of HOLISTIC LEARNING. 
A school is where the child is impacted with a synergy of skills,knowledge and values.
Vishwa runs four schools, based on the principles of Agnihotra and PSM and a blend of timeless wisdom and modern techniques of education. Each school is a holistic learning center reaching out to 600 children.
Holistic learning is a technique which enables the child to discover his/her own creative and aesthetic potential.
Every child is unique and talented. The environment in the school has to be conducive to identify and enhance this innate uniqueness. The teacher has to be a mentor rather than a judge of these qualities and help the child grow into a confident and strong citizen of this world.
We are using a unique teaching and learning technique that has been perfected by world renowned experts in the field of education through years of first hand experience of working with children. It is a technique that is built on the idea that a child understands information better when it is represented and learned visually and verbally.
We want to impart unto each and every child a sense of pride and help them blossom into successful, happy and positive individuals and creative citizens of the planet.
We are also  using modern tools of teaching like LED screens and ICT systems to help the children better understand along with Yoga, meditation, ayurvedic health check ups, etc.
We believe that the teachers and the parents together will help shape the future of the child and help create a ONE WORLD FAMILY.