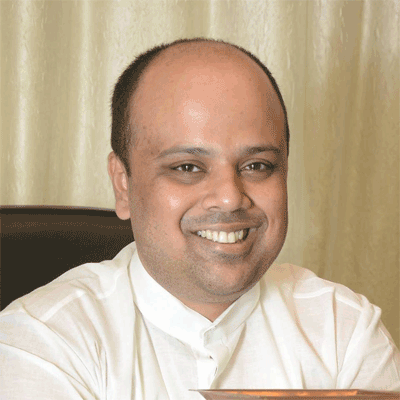 Dr. Purushottam Rajimwale
Introduction
"The spiritual and healing work of the past 150 years of my illustrious Guru lineage and the tradition of service of the last eight generations of my family is my spiritual ideal, mental goodwill and physical blessing."
Dr. Purushottam S. Rajimwale, is the President of Vishwa Foundation. He has has dedicated his life to spreading the message of peace and health for all and supporting various social causes. He is personally involved in everything that Vishwa Foundation promotes  –  Spirituality, Health, Ayurveda, Yoga, Education, Women empowerment, Green Energy, and so on. He holds a Master's Degree in Ayurveda from a well known Indian university.
Family Background
Dr. Purushottam belongs to the Rajimwale Family, which was a Royal Family belonging to the Mahakosal region of Central India. The family has a long tradition of working for the welfare of the people with known history dating back to the early 1800's. Dr. Purushottam is the Grandson of Paramsadguru Shree Gajanan Maharaj of Shivpuri Akkalkot, who is referred to as Shree, by His countless devotees spread all over the world and hails from the Shree Swawmi Samarth Guru Lineage of Akkalkot, India. Shree rejuvenated the ancient most practice of Agnihotra from Akalkot and founded the Ashram of Shivpuri to spread the message of healing and peace all over the world. Dr. Purushottam spent his entire childhood in a spiritually charged environment at the monastery in Akkalkot, with distinguished and evolved Yogi's and Saints. He absorbed the nuances of the teachings of ancient wisdom from the Guru Tradition as explained by Shree, and from his father, Shree Shreekantji Maharaj. He learned about the holistic way of creating health and well being by being in close association with nature through these ancient and esoteric teachings. Shree Shreekantji Maharaj, who was a PhD in Sanskrit with a specialization in Vedic Literature, would guide Dr, Purushottam for hours at length. They would be discussing diverse topics varying from Ayurveda, Yoga to Philosophy and Vedic Sciences.
Work
Now Dr. Purshottamji, a world renowned spiritual teacher, a humanitarian, nature lover and healer, travels around the world sharing the teachings he has inherited, implemented and experienced by way of discourses, lectures and seminars based on ancient wisdom and natural healing sciences. He speaks passionately about many topics ranging from spirituality, social welfare and environment to Ayurvedic wellness programs, attaining good health, and spreading peace wherever he goes. He has dedicated his life for the cause of spreading health and well being for all. He always says that he aims to reach out to as many people as possible and create at least a moment of happiness and health for them.