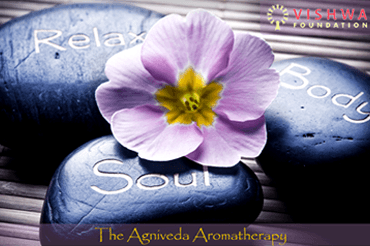 Vishwa's therapies are designed to heal the mind and the body of stress and toxins. Learn about various retreats and programs we run at Agniveda, our healing center and enroll into the one that will prove to be beneficial  for you
Vishwa Wellness Center (VWC) is located within the precincts of the peaceful and serene healing environment of the Shivpuri Ashram. VWC is a state of the art fully equipped health center; spread over five acres of sprawling gardens and Ayurvedic herbal plantations. VWC is an oasis of bliss and rejuvenation in an ideal setting.
The main objective of the centre is to educate people in the various concepts explained in Ayurvedic texts about health and wellness and aid them in their journey towards Ananda- Bliss. Keeping the same commitment in mind we have been actively involved since last 45 years in creating awareness about the core definition of health as per Ayurveda.
At our centre we not only heal the body by rendering classical Ayurveda therapies but stress on the fact that a person should work on changing their way of looking at life. We believe in the Ayurvedic view that one must make an effort to preserve the health of the body first and only think of curative techniques if and when the illness arises.
All the programs and retreats, are based on the concepts of Swasthya, a unique system of healing developed at the center.
In this beautiful, soothing environment of VWC, the guests can almost feel their stress fade away as our highly trained team of Vaidyas (Ayurvedic physicians), quality teachers and qualified staff help you restore your balance and find harmony by rendering classical Ayurveda therapies.
Guests can choose from the guest rooms and cottages available in the Shivpuri Ashram located within at a short distance from the center, for stay during the course of the retreats. When they are in between enjoying the healing therapies, Fire Therapy and Meditation sessions, or counselling sessions, they can visit the Veda store for books, traditional handicrafts, etc, visit the organic farms to choose the vegetables for dinner or relax with a cup of organic herbal tea in the beautiful gardens around the center.
VWC uses authentic medicinal products like oils, lotions, herbal powders, creams, etc, most of which are made by partner agencies and companies. We use best of raw materials to make classical and textual preparations, which are sold across India and in many countries worldwide.